These rolls are SO easy and super quick with only taking 30 minutes! That's from start to finish even! So if you're looking for a good, quick, and easy roll recipe, especially for family get together's, I've got you totally covered!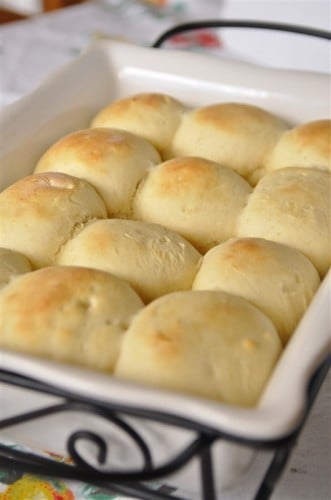 (Not my picture or recipe. For original, click on title.)
Ingredients:
1 c. plus 2 Tbsp. warm water
1/3 c. oil
2 Tbsp. yeast
1/4 c. sugar
1 1/2 tsp. salt
1 egg
3 1/2 c. bread flour (could use all-purpose though too)
Directions:
Preheat oven to 400 degrees F.
In your mixer bowl, combine the water, oil, yeast, and sugar and allow it o rest for 15 minutes. Using your dough hook, mix in the salt, egg, and flour. Knead with hook until well incorporated and dough is soft and smooth. (About 5 minutes.)
Form dough into 12 balls and then place in a greased 9x13 pan and allow to rest for 10 minutes. Bake for 10 minutes at 400 degrees or until golden brown.
I hope you all enjoy these like we did!
To see the pin, click
here
!
Until next time,
Amanda