Well, now it's time again to share another recipe with you all! Today's recipe is PERFECT for all the family get-together's that will be starting to take place (Mother's Day, Father's Day, summer bbq's, reunions, etc.). I made this salad I think a year or two ago and it was a huge hit at a family meal, so naturally with summer just around the corner, I must share!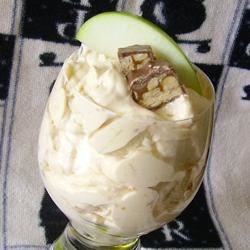 (Not my picture or recipe)
Snicker Salad
8 oz. container cool whip
1 pkg. instant vanilla pudding
5 regular sized snickers, frozen (makes it easier to chop)
Add instant pudding to a mixing bowl and pour in milk. Mix well and let chill while chopping candy and apples.
Chop snickers into bite-sized pieces.
Chop apples into bite-sized pieces.
Fold cool whip into pudding mix until well blended. Mix in snickers and apples.
*You can adjust the apples and snickers to your liking in how much you want in the salad.
Thank you for reading, hope your family enjoys it like we have!
Until next time,
For pin, click here!