So, without further adieu, I bring you tonight's latest addition in the recipe book!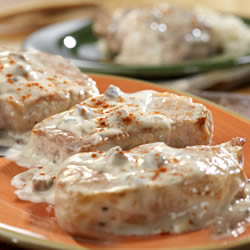 (Not my picture or recipe. Click title for original.)
Ingredients:
1 Tbsp. vegetable oil
4 boneless pork chops, 3/4-inch thick
1 (10.75 oz) can Cream of Mushroom Soup
1/2 (10.75 oz) can milk
1 (1 oz) pkg. ranch salad dressing mix
Paprika
Ranch-style rice (I just used regular white rice)
Directions:
Heat oil in skillet. Add chops and cook until browned.
Add soup, milk, and 1/2 package salad dressing mix. Heat to a boil. Cover and cook over low heat 10 minutes or until done. Sprinkle with paprika.
Serve with rice.
Such a simple and quick meal, which you all already know is my favorite kind! ;)
Until next time,
To view the pin, click
here
!
Amanda